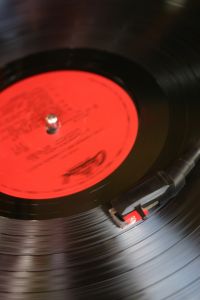 Rock n' roll has changed dramatically over the years; morphing into numerous sub categories including heavy metal, punk, grunge, alternative, and various hybrids and combinations. But one thing is certain regardless of which sub category you listen to – rock n' roll represents youth, recklessness, rebellion, and freedom. First used by a radio DJ in the 1950's, the term rock n' roll represents a very large genre that is just as powerful and free as it was back then.
Rock n' Roll Records: Starting a Collection
If you're a fan of Elvis, The Beatles, The Rolling Stones, Led Zeppelin, Blondie, REM and other famous bands or solo artists, records may hold a special place in your heart. If you have memories of sitting around with friends listening to records, reading the liner notes, reviewing the cover art all while debating the significance or meaning of certain lyrics, starting a record collection is one way to rekindle those carefree days.
Thanks to the Internet, you can easily get in contact with record collectors from around the world to find specific albums. You can also browse through large collection databases to find albums you forgot about a long time ago, but want to revisit. Even if you grew up listening to cassette tapes and CD's, starting a record collection is a retro thing to do – and can be lots of fun, especially if you have certain artists or albums in mind.
To start a collection, simply go online to find a specific album. You can also visit used record stores, antique shops, estate sales, or you can contact record dealers to see what they have in stock.
Top 5 Greatest Albums of All Time
These five albums topped Rolling Stone magazine's list of the 500 Greatest Albums of All Time:
#1 The Beatles – Sgt. Pepper's Lonely Hearts Club Band
#2 The Beach Boys – Pet Sounds
#3 The Beatles – Revolver
#4 Bob Dylan – Highway 61 Revisited
#5 The Beatles – Rubber Soul
Given the massive popularity of The Beatles then and now, it's not surprising to see three of the five slots filled with the band's albums. The Beatles are synonymous with rock n' roll. The Beatles not only represented youth, recklessness, rebellion, and freedom, the band helped define how a generation of music lovers was feeling at the time.
For many people, rock music gave them permission to feel sad, angry, depressed, happy, and melancholy all at once. And even though the problems of yesterday may not be the same as problems today, rock music still provides a voice for those that don't feel heard or valued.
Resurgence of Vinyl
Over the past few years, vinyl records have resurfaced with both old and young music lovers. There's just something special about vinyl that more and more people want to experience – either for the first time or as a way to revisit days gone by. It is unknown whether this new trend will continue or if it will fade as new musical mediums are introduced. But for now, enjoy listening to rock n' roll records – alone or with friends – it will be an experience you won't soon forget.