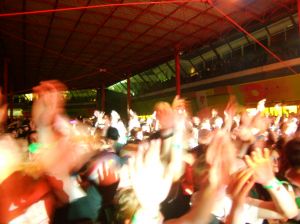 Indie rock, also known as independent rock, started in the 1970s and continues today. This form of rock n' roll combines other forms of rock including hard rock and punk as well as other genres such as country, big band, and folk music. Any genre of music may be incorporated into Indie rock to create a unique sound. Experimental, edgy, rebellious, and oftentimes unpolished, this form of rock allows musicians and fans to experience a variety of unusual melodies, odd lyrics, and a wide range of emotions.
The Underground Music Scene
Even though Indie rock was born in small clubs that catered to various societal subcultures, some of the music has become more main stream over the years. Band like The Sex Pistols, The Talking Heads, The Cure, The Clash and later 'college bands' like The Dave Mathews Band and REM all started out playing in small clubs, and concert venues in the US and the UK. Over the years, these bands went on to become very famous – in some cases for band members' personal drama as much as for the music.
Radio Airplay
Radio stations, especially smaller stations on college and university campuses, started to play more Indie rock which led to widespread exposure to students and those looking for an alternative to hard rock, disco, soft rock and other music. Throughout the 1980s and 1990s, Indie rock morphed into several subgenres including new wave, alternative, and college rock.
Influence on Rock n' Roll
Indie rock takes from other rock styles, but the lack of main stream appeal is what makes it special. Even though some bands have broken through to become main stream, there are many Indie bands that refuse to sign major record contracts, play large concerts or outdoor events, and remain true to their music by not compromising when it comes to lyrics and musical composition. Other bands like The Foo Fighters have managed to go from Indie rock band to main stream rock band without losing their Indie fan base.
Maintaining independence is still a driving force of this rock genre. Indie rock bands don't want to be told how to create music just to enhance sales or increase popularity. Musicians like these will continue to experiment and make music that's offbeat, weird, sentimental, quirky, and wonderful for fans that want something different from what's currently on the radio.
 Indie Rock and the Internet
Thanks to the Internet, people can now listen to music and download their favorite songs at any time. And while this has increased the popularity of Indie rock, there's still an air of rebellion and mystery as these bands continue to play music their way. Using social media websites like Facebook and YouTube, Indie bands can promote albums and live events without having to rely solely on record companies and event promoters. This has given the bands much more creative freedom.
The Internet also provides collectors of Indie rock records greater opportunities to find vintage or rare recordings. Use online databases to look up available records or contact other collectors and record companies to inquire about favorite albums, rare live recordings, or studio recordings.