Firstly, what makes a record rare and valuable?
– Classic hits and older records from defining eras, especially the 50's and 60's rock n' roll era, are the records that can pick up 1000's of dollars. Thats because these records are popular and thus demand and prices are high.
– However, the rarity and thus value of a record always depends on its condition, both in terms of the manufacturer's labels and cover art, and the record itself -the same record might be worth a fortune in mint condition, but nothing if in bad condition – so take care of your vinyl!
– Additionally, there are rare versions of certain records – promo recordings and special editions for example, which are more scarce are more likely to be considered to be rare records, and will thus fetch a greater value.
– Signings by the artists will also add to a record value.
– Stereo or mono pressing – whichever is scarcer! Before the 1970's most records were pressed in mono, and thus 1950's stereo records collect more than the same records pressed in mono. However, the converse is true of records after 1970.
Lets have a look at some of the rare records that are worth something (if in good condition), so that the next time you are at a garage or clearance sale, you won't dismiss a rare record for sale as junk…maybe you are even lucky enough to already own one of the following:
Elvis Presley's Sun Recordings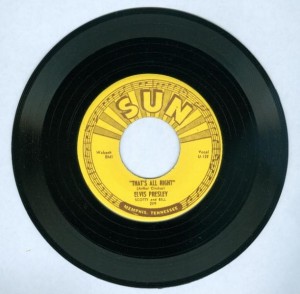 Between 1953 and 1955 Elvis Presley recorded 25 titles at Sun Studio in Memphis, Tennessee. Sun records was created in 1952 by Sam Philips, a producer renowned for his respect for independent music artists. Elvis's recordings on these labels are treasured reflections of the unique fusion between black (gospel, blues, r'n'b) and white (hillbilly and country) music which was emerging in the 50's. Mint conditions of the original singles released by Elvis under this label are highly sought after; these five singles, in release order are: "That's all right/Blue Moon Kentucky" (July, 1954), "Good Rockin' Tonight/I Don't Care If The Sun Don't Shine" (September, 1954), "Milkcow Blues Boogie/You're a Heart Breaker" (December, 1954), "Baby Let's Play House/I'm Left, You're Right, She's Gone" (April, 1955), "I Forgot to Remember to Forget" (August, 1955).
The Beatles – Promo and White Label Records
Everybody knows and loves The Beatles as the hit makers of the 60's. Their records are still popular amongst every generation today. There are thousands and thousands of Beatles
vinyl records in rare vinyl records circulation, some of which are valued at thousands of dollars and others that are valued at five dollars, depending on it's condition and the number of copies in circulation. The Beatles is an example of a legendry group for which you should look out for 'white label', 'bootleg' or 'promo' records. These kind of bands or artists have a large fan base, some of which will want to own every single release by that artist, and thus people will pay a lot to complete their collection with a rare promo record. Promotional, rare and signed vinyl records by The Beatles, have fetched thousands of dollars in past record auctions. Search for The Beatles vinyl records
Unusual pressing's of famous records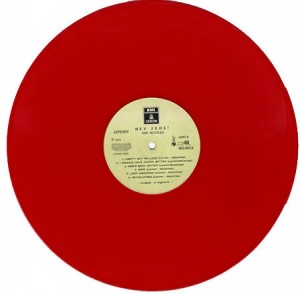 If you are lucky enough to have a Stereo version of 'Please Please Me' by The Beatles, a red or blue copy of 'The Works' by Queen, or a Japanese pressing of 'Monster' by Bob Dylan, then you own a rare record. Again, one can see the formula to what makes a record rare here: a). A popular band or artist and b). Scarcity of the record. Stereo copies of records released in the 50's and 60's are scarce, as are colored records and pressings from Japan.
Other notable rare records to look out for:
– Promos and 1st pressings of Pink Floyd Albums
– The Sex Pistols – 'God Save the Queen'
– Mint condition, 1st pressings and signed copies of Michael Jackson's 'Thriller' album